By C.C
When you love something, you want to possess it.
It is always great to get into heavy philosophical debates with Zach, but when the issue came to our discussion, we were already exhausted after several hours of watching serious art in New York's prime art district of Chelsea. Our minds were bombarded by images of ironical statements on social, political and domestic violence, sexual incongruity, materialistic existentialism, signs of fear and loath before the end of the world…
It was Zack's last day in Manhattan and it was meant to be a good day.
"You don't have to possess it, you can simply share your experience of it" Zack argued.
"How can I, my experiences are too personal; I'd be revealing too much about myself"
"So what! Who cares about your "self"?" Now he sounded annoyed.
The discussion went on like this for several blocks until we saw a crowd of people surrounding an old-fashion gas station in the corner of Tenth Avenue and 24th Street.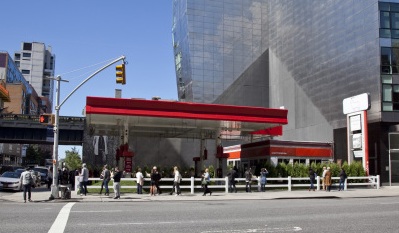 It looked like a country fair where smiling people were handling flyers from behind low wooden fences.  As we approached the station, we were surprised to find that it was filled with sculptures of sheep with innocent, inquisitive, and cute expressions.  The entire floor of the station was covered by green grass as if they were in a field, and yet it was inside a real gas filling station.
Sheep Station is an onsite installation showing 25 sheep sculptures by the late French artist Francois-Xavier Lalanne, presented by Paul Kasmin Gallery and the real estate developer Michael Shvo.
Shvo's idea to promote public art has contributed to attracting a broad audience to the area of High Line art district in Chelsea, where he is one of the leading developers of luxury buildings.
Real estate in New York has always had an intimate relationship with art. Wherever there is art and artists, real estate bloom and prices soar.  Such are the cases in other art districts in New York, such as Soho, Chelsea or the former the Meat-Pack district, D.U.M.B.O, Williamsburg, Long Island City, and more recently Bushwick.
Somehow it brought to my attention to what the parents of my friend from Argentina had once told me. She said that many years ago, the law in Argentina required every new building- either residential or office- to include a piece of art- either sculpture or painting. I wondered if this was still the case.
A little girl showed one of the sheep sculptures to her father and asked if she could go into the station and touch them, as an elegantly dressed older lady leaned comfortably on the fence and interrupted my thoughts. She said that she had seen Lalanne's sculptures before, in mid-town Manhattan, maybe 4 or 5 years ago.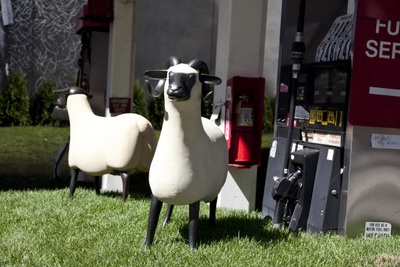 "I love them, I'd like to own at least one of them", she said.
Then, we wondered what they were made of and whether or not they were heavy.
"Anyone may take them away in the middle of the night" she joked.
I looked at Zach and he knew that I was seriously considering that possibility. I smiled and gave up, "only problem is that it is illegal".
"Besides, they must be hooked on the ground", I said. The older lady said she did not see any hooks.
"They may be glued" I said.
The uniformed Sheep Station worker handled us a flyer stating that the sculptures were made of epoxy stone and bronze. "They may be heavy" I concluded.
"Yeah, I wouldn't mind to have one of these sheep" Now I was saddened by having to leave them behind. "Are they for sale?"
As I looked more intently at the Sheep Station, I realized that there was a family of sheep in the center of the Station. "Oh, I can't just have one little sheep, she would be lost, away from her family" I said "I must have the entire family".
Then, I looked at the Station because the sheep looked so perfect at the station, although the whole scene was totally illogical, surrealistic, as if it were in a dream.
So, I must have the entire station, I thought.
Then, I looked up and saw that behind the station loomed a full wall of graffiti painting of a woman looking up, as if she were leading the sheep below. Then, I knew, my plight was getting starker, because I now would have to take the wall of the building as well.
I looked at the older lady looking at the Sheep Station, lost in her thoughts, lingering, taking in all her feelings and memories. Slowly she began to speak, and I listened: "I saw these when I lived in Park Avenue, you see, my daughter was visiting me from Hong Kong, she came so seldom, she was so busy…look at the faces of these sheep, my friend Darren had those, the real ones, in his farm in England…that day we had a lovely picnic, it was a special day, you see, that day I met my late husband…"
She shared her story with me, and I shared with her my criminal intention to kidnap an entire family of sheep, and the station, and the mural behind it, and then Zach came to me, disrupting a rapture of near spiritual experience. He said the conclusive words: "Time to leave".