Every two years, art shakes up the world with La Biennale Di Venezia . In this year's international art event, the 58th version, Portugal has brought one of its most representative artists Leonor Antunes with an ambitious project that connects contemporary values to both historical and 20th century Italian architecture and design.
Under the title of "A seam, a surface, a hinge, or a knot", Antunes uses everyday materials such as rope, wood, leather and brass to integrate and build spaces and shapes inside the 17th Century Palazzo Giustinian Lolin that lavishly stands in full baroque splendor overlooking the Grand Canal.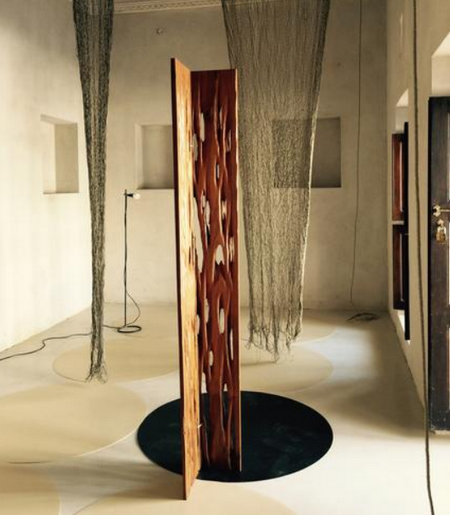 Her work reflects a rigorous investigation on several projects of 20th century Italian architects, designers and historians, interested in merging traditional artisanship and craftsmanship with the manufacturing process of Modernity to create new spaces and forms of geometrical abstraction, such as Carlo Scarpa, Franco Albini and one of the few female architectural historians that has recently gained notoriety, Egle Trincanato.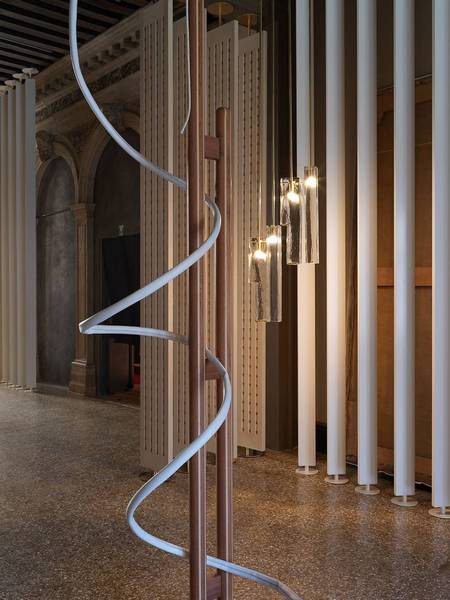 The space-specific installation has also embraced the craftsmanship traditions of different cultures, such as Portugal and Japan. Several elements of the exhibition are actually fabricated by local master carpenters, leather workers and glassblowers, including, for example, the Venetian Fallegnameria Augusto Capovilla carpentry, which has worked with Scarpa.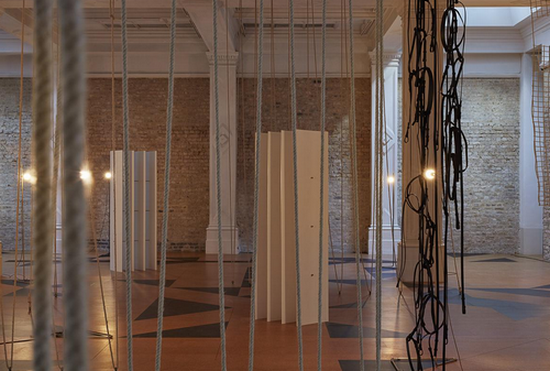 On the lower floor of the palace, Antunes has created a corked floor piece between two sculptures that serve as screens and installed two wall lamps designed by Trincanato for the Institute Nazionale per L'Assicurazione Contro gli Infortuni Sur Lavolo (INAL) in Venice. In the palace's main "piano nobile" floor, coated aluminum profiles are distributed in a recurrent way throughout the space to support intricate sculptures made of a variety of materials such as mahogany, ash wood, stainless steel, and line wood.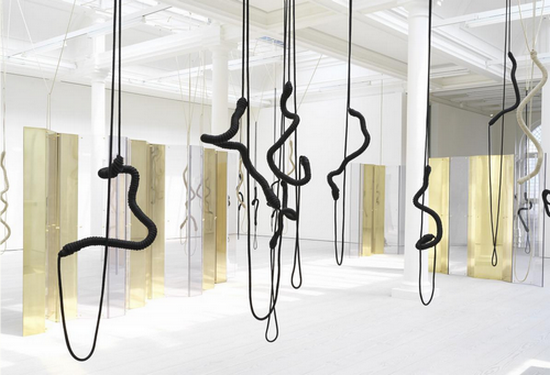 Lamps also play an important role in the space, as the artist has designed them using different materials such as brass and blown glass made in a glass factory in Murano. She has also altered the large windows of the palace to allow natural light to enter the space, using them as a "borrowed " element or "Shakkei", the Japanese idea of incorporating background landscape into the space of a garden.
She has carefully conceived a multi-layered combination of a myriad of ideas, materials, scales, installations and sculptures to enter in an unusual dialogue with the overall sumptuous baroque character of the palace designed by the famous Italian architect Baldassare Longhena (1598-1682). She is also interested in Venice as a modern city, although it dwells within the contrasting context of powerful traditions.
The Biennale, opened on May 11, will end on Nov 24.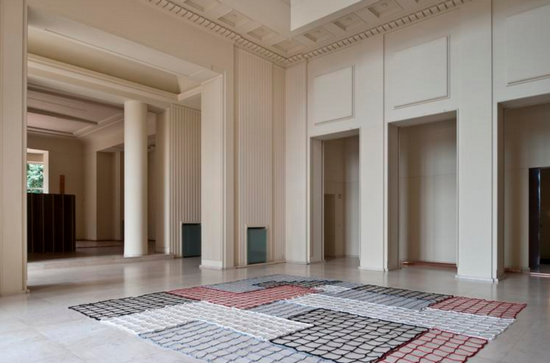 Born in 1972 in Lisbon, Antunes now lives and works in Berlin.  Her recent major exhibitions include: "Discrepancias con C.P" at the Museo Tamayo Contemporaneo, Mexico City (2018); "Leonor Antunes, Pirelli HangarBicocca", Milan, Italy (2018); "The Frisson of Togetherness", Whitechapel Gallery, London (2017); "A Spiral Staircase Leads Down the Garden", SFMOMA (San Francisco Museum of Modern Art" (2016); "The Pliable Plane", CAPC Musee d'art Contemporain de Bordeaux, France (2015); "I Stand Like a Mirror Before You", New Museum, New York (2015); Leonor Antunes, Perez Art Museum, Miami (2014).
*Images: Installation by Leonor Antunes,  Photos: Nick Ash.