Ceiling high works that can measure as long as seven meters. All-over paint and collages of precious metals, bumper stickers, rubber tires, cracked eggs, a hundred dollar bills in Ziploc bags, trash. Overwhelming in scale, dynamic in sense of color and texture.
For Michael Chow, better known as the celebrity co-founder and owner of the upscale Mr. Chow restaurant chain, his first solo exhibition in China is a tribute to his father, whom he had last seen at age 12, as he embarked on a ship in a one way journey to London. Under the title of "Voices For My Father", the exhibition coincides with the 120th birthday of his father, Zhou Xinfang (1895-1975), considered as a renaissance artist and one of the greatest Beijing Opera grand masters in China, and founder of the Qi School of Opera.
Inspired by the remembrances of his father, who was persecuted and died during the Cultural Revolution, "Voices" has also marked a forceful comeback of Chow's own career as a painter after leaving it for 50 years.
At 76 Chow exudes the rare confidence of someone who has easily shifted from one successful career to the other, adopting a wide range of roles from being artist, movie actor, designer, architect to business man, celebrity restaurateur, art collector, and back to artist, saying that now "I have the chance to be the greatest painter".
As a young man, he struggled to succeed in the arts, first as a painter and then did stints in 16 movies before he opened his first Mr. Chow restaurant in London in 1968. He designed all his six restaurants around the world and always thought himself as an artist. His business became a "hyper-stylish empire", as hailed by the New York magazine, and attracted many artists.
When asked to paint the antithesis of racism for the restaurant, the world famous London Pop-Artist Peter Blake painted Chow as a wrestler-manager with half-Chinese, half-Italian bodyguards. It became the first of Chow's portrait collection that went on to include works by David Hockney, Andy Warhol, Jean-Michel Basquiat, and Julian Schnabel. Keith Haring, for example, depicted Chow as three green prawns (his favorite dish at the restaurant).
Together with his paintings in the show, Chow has also included his private collection of over 20 artists of iconic renown.
Chow's style appears to be the result of an unusual combination of the traditional Chinese painting, Western Abstract Expressionism, and the moves of the Qi School opera. "For me, Qi style is a kind of expressionism, it is about creating moments," he explains. "For example, the key to carrying plates and serving (in the restaurant) is the force and speed to 'perform' in front of the customers."
His mixed media technique, which he calls "controlled accident", is physically demanding and time consuming. It reflects his relentless passion for expression and creativity, and seemingly a continuous drive to do whatever it takes to uphold his calling. There is a touch of "oblivion" in his work, as if he disregards completely the possibility of the pressure exerted in the art world, or the challenge of sudden fame and success, as he asserts: "I will continue to paint as long as I can climb up a stair to pour paint onto a canvas below".
After Beijing, "Voices for My Father" will travel to the Power Station of Art in Shanghai (April 17 – June 28) and to the Andy Warhol Museum, Pittsburgh, in 2016.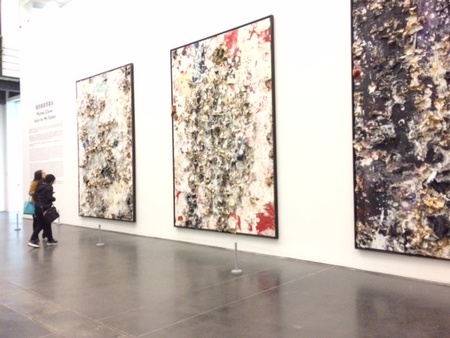 *Image on slider: Michael Chow – Shoot the Frame. 267x373x20cm