by E. Leigh
What can I say about Frida Kahlo that is new and fresh? What do I feel after walking out of her solo exhibition at The Dali Museum in St. Petersburg, Florida? Respect. For her pain, her fight, her courage.
Born and died in the same house, "La Casa Azul" in Coyoacan, Mexico, Frida was of German-Mexican descent. She had polio as a child, leaving her right leg much thinner than her left. When she was 18, a bus accident confined her to bed, where she started to make self-portraits using the mirror across from her bed. A life of pain followed with 34 operations, none of which healed her from the iron handrail that pierced her abdomen and her uterus.
Testimony of a fellow bus rider: "…something strange had happened. Frida was totally nude. The collision had unfastened her clothes. Someone in the bus, probably a house painter, had been carrying a packet of powdered gold. This package broke, and the gold fell all over the bleeding body of Friday…"
Frida met Diego Rivera, the most renowned Mexican artist of the era, when she was 21 and he was 41 years old. She weighed 98 pounds; he weighed 300. Her mother described it as "the marriage between an elephant and a dove". A dove that fought for her freedom and made a name for herself.
Frida is one of the most revolutionary self-portrait artists. Of the 143 paintings she did in her life, 55 are self-portraits because "I am so often alone and because I am the person I know best". She had been associated with folk art, primitivism, indigenism and Surrealism, even though she said: "They thought I was a Surrealist, but I wasn't. I never painted dreams. I painted my own reality."
As many of Frida's self-portraits, they are visually disturbing. They are portraits of her soul. In "Frida and the Miscarriage", she stands in a space dotted by tears and body fluids, surrounded by her fetus and several decomposing forms. The moon looms on the right and an additional arm holds her painter's palette. A similar scenario is shown in "Hospital Henry Ford", of which Diego Rivera had said "Frida started a series of masterpieces that have no precedent in the history of art. Paintings that exalted the ability of women to endure truth, reality, cruelty and suffering."
In "The Broken Column", Frida depicted herself as a female St. Sebastian mixing her sexuality with mortification of the body in order to create a message of spiritual triumph. It seems as if her personal injury is emblematic of the sufferings of the society at large.
Frida also denounced violence against women. In "A Few Small Nips", she showed a woman murdered and a man grinning with a knife. The meanings are manifold. It is an allegory of her pain towards Diego's infidelities. It is also the victimization of women in the hands of violent men.
Frontal images and symbolic backgrounds, Frida's paintings are metaphorical in nature. There are always ribbons linking her to the world, yarns, umbilicals, animals like the dog Xolo, her companion and protector, and monkeys, which in Mexican mythology are symbols of lust.
The collection also includes a great selection of private photos of families and friends. She kept intact her thick unibrow and mustache and always dressed in colorful skirts. She looked self-aware but in control. There were also photos of her lover, Russian revolutionary Leon Trotsky, when he lived at Casa Azul as a political asylum from the Soviet Union. Her health deteriorated when she was 47, a year after her first solo exhibition where she arrived in an ambulance due to gangrene in her right foot.
Frida lived the life she wanted to live. For me, that took courage and will power. She became a feminist icon and a cultural influencer. After looking at her life through her art, with death a constant reminder of her mortality, I came out admiring the two Fridas: the one of suffering and the one alive to the joy of the universe. Mexican novelist Carlos Fuentes once said: "Frida was in love with the world, with everything that was alive." It is this love that kept her alive. A love that has made her art immortal.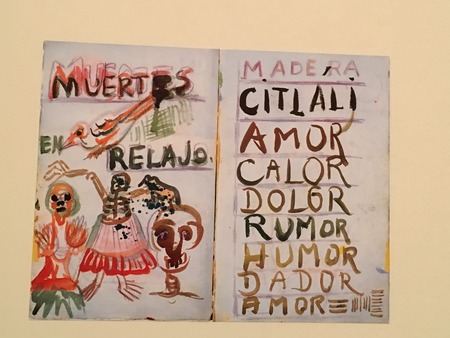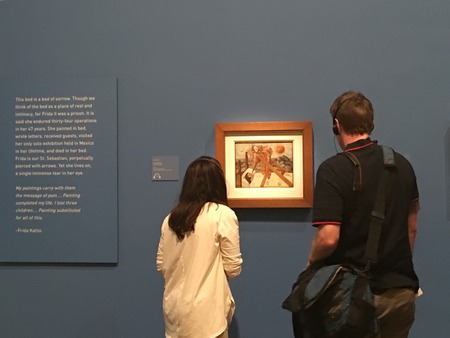 Image on slider: The Bus – oil on canvas.