by Jane Korinek
Art Basel brings together the largest group of galleries, collectors and investors every year.  But who is buying?  What is selling?  And how has the art market evolved? Art Basel has partnered with UBS to provide an overview of the art market in a new yearly publication called The Art Market 2017.  Researched and authored by art economist Clare McAndrew, founder of Art Economics, it gives an in-depth snapshot of art sales in 2016.
if art were a country, it would be Luxembourg…
Art was sold for 56.6 billion dollars in 2016, down 11% from 2015.  That means that if the art market were a country, it would be Luxembourg.  Luxembourg's economy represented approximately 57 billion US dollars in 2016.
Compared with another luxury good, the art market represented about two and a half times the value of sales of polished diamonds.
… but most art is sold in the United States
The vast majority of art sales was concentrated in a few countries.  Forty percent of art was sold in the US, followed by 21% in the UK and 20% in China.  That means less than 20% of art, measured by value, was sold in the rest of the world combined. In addition, local buyers make up the majority of dealers' clients. Sales in all major markets dropped in 2016 compared with 2015, but sales fell by less in China than elsewhere.
One reason that so much art is sold in the US is that one-third of all the wealth of individuals worldwide is held there.  In the last two years, over one million wealthy individuals, called "high net worth individuals", purchased art in the US. Art was the third most popular luxury purchase for these wealthy individuals, after jewelry, gems and watches.
Art fairs are up
In terms of art transactions, more than half of sales go through dealers; sales through auction are steadily decreasing.  A core of around 5,000 dealers is responsible for up to 80% of the total value of dealer sales. Half of dealers' sales took place in their galleries, but art fairs have taken on an increasingly important role.   Art fairs have grown by over 50% since 2010.  Online sales remain a small percentage of the art market, at about 8% of the total.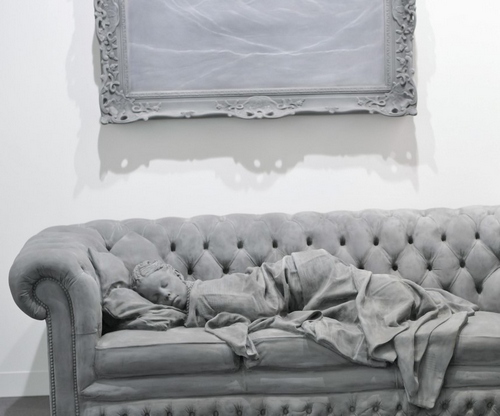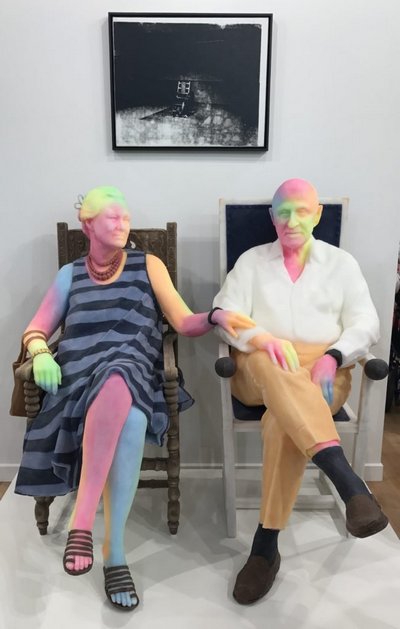 there is a national bias in art exhibits
Exhibitions provide the fundamental interface between art and ideas and the public. There is a strong national bias, with the largest share of exhibitions, by a considerable margin, for any nationality of artist being in their home market.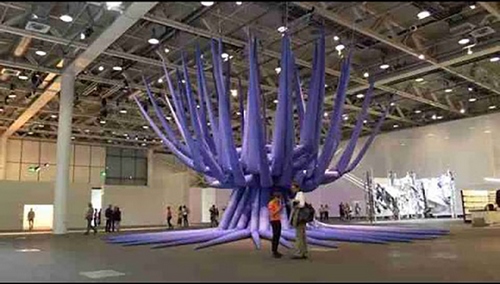 Images on slider: Sofa Oreja del artista estadounidense John Baldessari. Foto EFE/Georgios Kefalas and John Akomfrah,