by C.C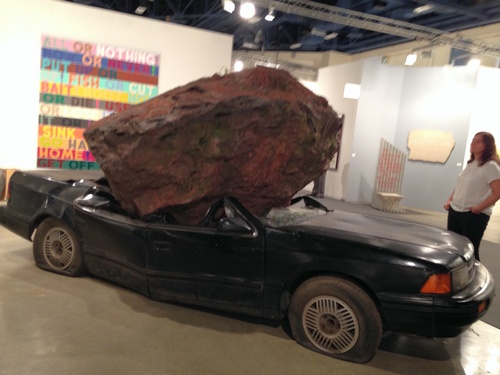 When I told my friends I was going to see Miami Basel 2015, I was told that I would be seeing a lot of Cuban art since the US and Cuba recently opened their diplomatic relations. I also expected to see Latin American art since it was a long known fact that over the years, the event had served as a bridge to showcase art of the American continent.
All this happened. I did see more Cuban and Latin American art than before, but what surprised me was to find a few carefully selected collections of work of famous artists not often seen in art galleries, museums, and international events. Some of them were small and not much publicized, but they stood beautiful and powerful like a bunch of delicate jewelry amidst a rich host of all kinds of art expressions of all times. They stood out and shined, holding together the integrity and spirit of the entire event.
In its 14th edition, Miami Basel has become one of the most important art events in the United States that has inspired the construction and development of entire art districts and real estate in Florida, and has attracted significant art investments from all over the world. It is not just about celebrities who come to this event, or the lavishing parties held every year around it. One can actually see and find good art, regardless their political correctness, or "newness" or strangeness. In a way it was comforting to see that what the investors and collectors and art enthusiasts vied for was quality and value.
The fair was organized in different sections; like for example, the Kabinett, which consists of a gallery booth dedicating a special area inside the booth to curated works of a specific artist, or the Survey section, which stressed on historical surveys of artists or art movements, mainly Pop art.
In the curated areas, I saw the poetic work of the young Argentine artist Eduardo Basualdo, exploring space and its limitations; the German painter Sigmar Polke's interest in photography in the late 1960s, using the camera as an artistic tool for questioning the relationships between subject and image; the rhythmic play of color and geometry tracing music and harmony as reflected in the paintings of another Argentine artist Ana Sacerdote, the language-based neon installations of the world famous Joseph Kosuth, delving deeply into the concepts of meaning and communication, and the American painter Al Held's simple and cogent drawings made in 1960s that originated the hard-edged geometry that later made his repute.
In the Survey section, I found a 20-year survey of the work by one of the most fascinating figures in Pop Art, Peter Saul, and his irreverent approaches of sex, violence, and social importance, tapping into the issue of vulgarity. This included some works never shown before to the public. The 82-year old Japanese artist Shinjiro Okamoto made commentaries about art, religion and war with beautiful and extremely detailed and intricate rendering of cultural iconic objects such as the cherry blossom, in a series of paintings made over a period of 12 years.
The work of the Colombian artist Miguel Angel Rojas, pioneering critique and investigation of the issue of moral ambivalence in a highly conservative society in the 80s, using unusual photographic approaches and installations to exact the aesthetic values of issues concerning intimacy, homosexuality, ethnic vulnerability and social expectations. His Faenza series are six black and white photographic prints on paper showing scenes of the Faenza movie theater's bathroom, a frequently secret meeting place of homosexuals, in downtown Bogota. The scale and resolution of the photos require a close look, thus challenging the viewer's initial reactions to images of explicit sexual activities. His more recent works showed large scale photos of beautiful nude young men posing sensually like the classic sculpture of David by Michelangelo, but without part of his leg. The model who had posed for Rojas was a real Colombian soldier who had lost his limb in the guerrilla warfare that severed the country in violent conflicts for decades. His naked body was perfect and classical, but Rojas wanted to purportedly show the tragedy of incompleteness of the body as a reflection of the great cultural differences that divided the country.
When it comes to a fair of such scale- with the participation of more than 260 galleries and works by at least 2,000 artists in the 20th and 21st Century- we inevitably see all kinds of art, some terribly banal, others conceptually farfetched, a few genuine, or exceptional, or rare and unfathomable. In the midst of several large scale new works, including huge purple balloons hanging down from the ceiling looking like some kind of an invasion of huge shinny cockroaches or an overly literal installation of a huge rock crushing on an automobile, loomed a few rarely seen Picasso, Chagall, Miro, Lege, De Kooning, Arp, Guston, and many other masters of all times.
The Spanish sculptor Jaume Plensa gave us a couple of huge life size heads with eyes closed suggesting a powerful meditative state of interior contemplation on peace and life. There was a drawing of a sculpture project by Joseph Beuys called The Eurasian (Sulfur) that reminded us of the essential purity of what art was about. From the Mexican abstract expressionist pioneer and poet, Alice Rahon, I saw a dreamy muted painting of something completely unpretentious as The Street and the Cats.
A few other works caught my attention and moved me included the somber nude bathers of the Nicaraguan painter Armando Morales, the Mexican master Rufino Tamayo's "Mirando al Infinito" (Looking towards the Infinite) painting of a couple looking at the moon looming in the horizon; a shamanic, simple, almost monochromatic and yet soulful landscape by the young Cuban artist Alejandro Campins, Francis Picabia's charcoal portrait of Gertrude Stein in 1933, and the Uruguayan Joaquin Torres-Garcia's little toy-like wooden constructions of man and animals, like birds, pig, and elephant.
It was not possible to mention all the most outstanding works of the fair and the collections attached to it, and multiple satellite art fairs, shows, and activities of smaller scale happening at the same time on the beach, at the nearby hotels, in the art district of Wynwood, in theaters, at the parks and other public spaces. There was simply too much to see. And yet, in just a few days, this huge kaleidoscope of contemporary art, with the joint effort of the city and residents of Miami, successfully offered a unique possibility for creativity, collection, business, and fun, and most incredibly, a pause for reflection of a human culture that extends beyond all boundaries at a moment when the world faces complex situations of violence and imbalance.
More info on the work of  Jaume Plensa:
* Image on Slider: Shinjiro Okamoto – Roly-Poly Cherry Blossoms: Cherry Blossom Labyrinth, Musume Dojoji
Liquitex on canvas, 76.4 × 205.2