By C. C.
Loch Hame is a band that I started with my friends, but now it's just me.
The American artist Tyler Loftis began his recent performance at the Steven Harvey Fine Art Projects in Lower East Side Manhattan with these words in an introductory video.
The gallery was packed and people waited as the video showed images of his and his friends' drawings, as well as photographs of moments in West Michigan and New York City that had inspired him. Then, he played his electric guitar, and his voice powerfully vibrated in uneven rhythm throughout the room, as the light dimmed and the video screen behind him reeled in calculated motion.
I met Loch Hame many years ago in Michigan, when there were four members, and most of them were already leaving.
By then, the now full-fledged journalist Jeffery McGeorge had just finished reading Jack Kerouac's On the Road. Todd Hancock, now couture designer and creator of Ttenden Clothing, was making cards with tender heart shapes with spray paint, Tyler Loftis, and Adam Dahlstrom, had both left to study fine arts in New York.
Loch Hame did not start out just as a group of artists making music. It was a way of life, as its founding members left home at 16 and drove a van across the United States for four years, taking all kind of temporary jobs and picking up experiences along the way.
It was a fellowship bound by a tight and solid friendship in some kind of a journey. As time went by and Loch Hame began to dissolve, Tyler brought in two new members, Mike Coleman, painter best known for his mosaic sculpture, and now director of the Second Ave Arts Management, and Chris Protas, painter and today director of the FireBarn Gallery in Michigan.
Tyler had met both Mike and Chris at the New York Studio School of Drawing, Painting and Sculpture in Greenwich Village. They often played music with their neighbor David Heino, the prolific artist who did everything- writing, acting, painting, sculpture, computer art, installation, gardening and Tai Chi at an informal art space called "Cathedral of Erotic Misery" in East Village.
They worked in the same places, ate similar food, lived close to each other, shared their couches, saved money to make their art and showed it almost always together.
Slowly Tyler began to bring New York-based international artists to the Midwest, as he believed that "Midwest represents a new frontier for American art".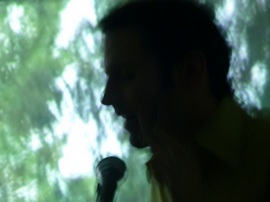 The group of artists continued to grow.  They showed both in Michigan and New York, mostly in empty spaces in the short period before they were rented by real estate agents or purchased by builders.
In Michigan, they activated the most important cultural event, the annual Art Walk, both with their music and their art.
Although today Loch Hame is just Tyler, the fellowship is far from broken. The friends are still engaged in creativity, only now they have formed some kind of culture that link together two totally different sites, the naturalistically lay-back Midwest and the hyperactive New York City.
As the evening at Steven Harvey's art gallery ensued, Tyler's voice, sometimes rife with rebellious tremor, sometimes with awe and wonder, reached the highlight full of yearning, echoing "some kind of free" as his guitar fast paced into a breathless drone.
The freedom that the four young artists had once sought on a journey seemed to have now reverberated, and expanded slowly, subtly, and more and more up-and-coming artists have joined in their cause.  A cause driven by an extraordinary connection of love and friendship.
Loch Hame's next performance will be at the Fourth Annual Indie Rock Music Festival scheduled for September 28 to 29 in downtown Grand Haven.
At the same time, 22 NYC-based artists will open two shows in Michigan, organized by the Second Ave Arts Management within the context of the Art Walk event.
To know more about Loch Hame, watch this video: