The Skulptur Projekte Münster (SPM) has launched its fifth edition with 35 new productions of public art from 19 countries, ranging from sculptures to performances throughout the entire German city of Münster. The event will end on October 1st.
The main characteristic of this event is that it is held only once every ten years, since its creation in 1977. Kasper König, who has been the artistic director since the beginning, has worked in every edition with rotating teams of curators. This year, the curators are Marianne Wagner, curator of contemporary art at the LWL-Museum fur Kunst und Kultur, and Britta Peters, a freelance curator based in Hamburg.
"An interval of 10 years is the best way to examine the changes taking place in sculpture that is related to society", explains König. According to him, thanks to the generous time provided by this interval, the works created for this event tend to be long term, conceived by the artists with maximum freedom bearing in mind a specific site. "Like a long term study, each edition reflects a multifacetic process of negotiation with the city of Münster," he says.
This year the curators have responded to the impacts of digitalization and globalization on society, and this year's event differs from past editions as it has included more performances.
Another novelty is that some works are also exhibited in the neighboring city of Marl, which was built in the Modernist style during the postwar era of Internationalism. According to the curators, the identity chosen by the two cities after the Second World War- the reconstrution and continuity in Münster and a new radical beginning in Marl- "could hardly be more different".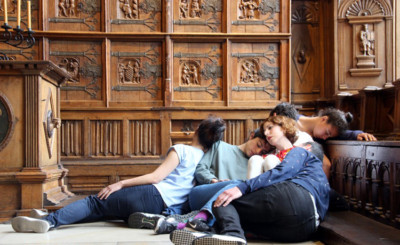 The participating artists are: Ei Arakawa, Aram Bartholl, Nairy Baghramian, Cosima von Bonin, Andreas Bunte, Gerard Byrne, CAMP (Shaina Anand and Ashok Sukumaran), Michael Dean, Jeremy Deller, Nicole Eisenman, Ayşe Erkmen, Lara Favaretto, Hreinn Friðfinnsson, Monika Gintersdorfer/Kurt Klaßen, Pierre Huyghe, John Knight, Xavier Le Roy with Scarlet Yu, Justin Matherly, Sany, Christian Odzuck, Emeka Ogboh, Peles Empire, Alexandra Pirici, Mika Rottenberg, Gregor Schneider, Thomas Schütte, Nora Schultz, Michael Smith, Hito Steyerl, Koki Tanaka, Oscar Tuazon, Joëlle Tuerlinckx, Cerith Wyn Evans, Hervé Youmbi, Bárbara Wagner/ Benjamin de Búrca.