It is not often to see good art by lesser known artists from far away continents. It is possible right now, this summer, in Paris, at The Louis Vuitton Foundation, which has dedicated its entire space to celebrate African art under the title of "Art/Afrique, Le Nouvel Atelier" (Art/Africa, the New Workshop). The event includes two major exhibitions, "Les Inities" (The Insiders) and "Être là"" (Being There).
"Être là" brings us to the discovery of the art scene of three generations in South Africa with a selective work of 15 artists, while "Les Inities" showcases the work of more emblematic artists from the Jean Pigozzi collection from 1989 to 2009. With these two exhibitions, the Foundation has shown us a continent often unknown and yet rich in culture, art and tradition.
In 1989, inspired by the "Magiciens de la Terre" (The Magicians of the Earth) exhibition at the Centre Georges Pompidou and Grande Halle de La Villete, the collector Jean Pigozzi asked Andre Magnin, the assistant curator of the show, to build a collection of African contemporary art, focusing on Sub-Sahara Africa. After an extensive research that included travelling into unknown regions of Africa, they found incredible work by self-taught artists who had never seen cell phones or internet.
It is easy to perceive a decisive drive of the exhibition to establish human bonds within this context, and to bring to light the evident freedom and originality of these artists.
These artists are heirs to a unique vision and spiritual, scientific and technical knowledge, and they have developed worlds that are expressed through a great variety of means and expressions.
The collection of Jean Pogozzi includes more than 10,000 works by 110 artists, including paintings, scuptures, masks, photography. It is considered to be the largest African art collection in the world.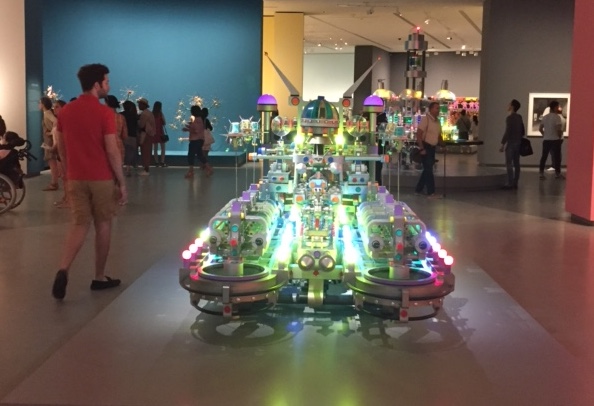 The artists present in the show: Rigobert Nimi, Romuald Hazumé, Cheri Samba, Jane Alexander, Athi Patra Ruga, Athi-Patra Ruga, Buhlebezwe Siwani among others.