Maybe three days are too short? Art Basel Miami 2016 is the prestigious must-see event but what about over 20 satellite fairs that are scattered all over the city? How to see in such a short period of time one of the broadest collections of art today?
To name but a few: "Untitled" features 127 exhibitors; "Art Miami", 125; "NADA" (the only non-profit organization), around 120; "Context", over 90; "Pulse", over 75. There are private collections, pop-ups in hotels and warehouses, fairs under tents. Countless artist talks, salon discussions, film screenings, not to mention poolside champagne parties… Too much to see, too little time. One take away, though, is the focus on emerging art and the participation of younger galleries.
Works in these parallel events are conceptual, humorous, experimental, and often bold. "Hecho in Cuba" is a group show featuring living and working artists from Cuba, a history-making exhibition, now that U.S-Cuba relations have eased. Sarah Braman's "Morning Thought Help Me" is a geometrical sculpture made of a table found in some backyard, a piece of glass, a coffee cup and books, all of which remind us of home and family. Ivan Morley's "A True Tale" is a painting inspired by Peter Biggs, a Los Angeles ex-slave who made a fortune in the 19th century shipping cats to San Francisco to help with their mice problem. Raynes Birkbeck is a self-taught Bronx painter who places real characters, historical and otherwise, to interact with everyday characters like the janitor in his building.
Rikrit Tiravanija and Tomas Vu created political tension by plastering a wall with black and white images of historical and pop culture revolutionaries such as Pussy Riot and Unabomber. Over the images, they placed framed newspaper clippings and incendiary phrases such as "All You Need is Dynamite".
"You need a point of view", Oscar Award-winning actor Adrian Brody says of his debut show of a series of pop art paintings titled "Hot Dogs, Hamburgers, and Handguns". For Brody, fast food and guns are symbols of death that is slowly destroying America. Insisting in separating his success as an actor from his incipient efforts as a painter, even though his celebrity status has drawn big crowds to the show, he is hungry to experiment in different areas of creativity, anything that gives him "energy, power and a zest for life".
Most fun are Mauricio Cattelan and Pieorpaolo Ferrari's two lounge installations: "Toiletpaper" and "Pasta Wow". Taking inspiration from the Dadaist and Surrealist movements, small tombstones with the words "The End" stand out at Toiletpaper lounge, while Pasta Wow is a homage to pasta lovers everywhere. Designed as a studio apartment, pastas overflow from every corner of the installation space, and according to Cattelan, the display costs $700 a day just for the fresh pasta shipped in from Milan.
A walk through Collins Park at the end of the 3-days-event is a respite from the claustrophobic exhibition halls. Taken from the lyrics of the 1969 song "Space Oddity" by David Bowie who died at the beginnings of 2016, "Ground Control" is this year's theme of human vulnerability at the sculpture park. Standing high above the park is Glenn Kaino's "An Invisible Man", a reference to the extrajudicial killing of Mike Brown in 2014. The human figure with his hands up in surrender, is two-faced: the front side is a three-dimensional figure of a man made in concrete, and on the reverse it is a flat mirror reflecting the clouds high above. Known for his "social sculptures" (a phrase coined by conceptual artist Joseph Baeuys to refer to art's power to transform society), Austria's Erwin Wum displays humorous headless figures in suits to show blind obedience. American multimedia artist Tony Tasset's arrow sculpture is picture-perfect for visitors. Aimed at the vicissitudes of the stock market, the art market, the thumbs up and down of social media, the arrows representing today's simplistic judgment given without deeper thoughts. An installation made up of a pile of asphalt powder from Argentinian Matias Duville invites the viewer to evoke "a sunset, a horizon or the notion of destiny". Swiss Claudia Comte's wall of triangles on both sides intends to depict "ground", as in nature, the idea that "nature looks wild but it's really highly structured and organized". Uncertainty and horror in the presence of crowds is what the Polish artist Magdalena Abakanowicz expresses with ten rigid standing bronze figures.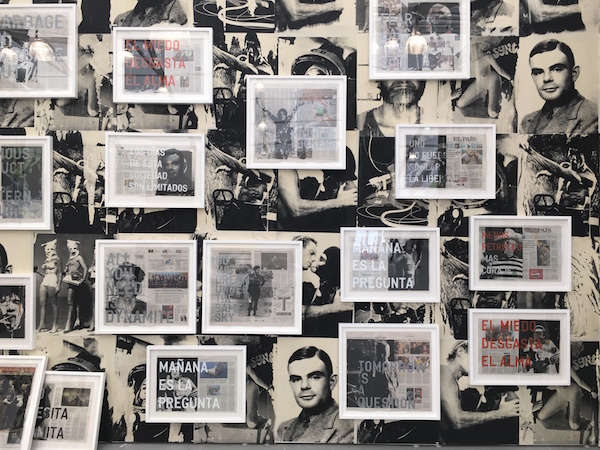 Some artists make use of the latest technology to express their art, others to warn of its perils. By showing security cameras bearing the logos of Facebook or Google, Fidia Falaschetti alerts the viewer of the documentation-obsessed times we live in. Amar Bakshi's "Portals", on the other hand, offers a positive perspective and asks, "When was the last time you stopped and talked to a total stranger?" Inside a golden shipping container, a video screen, a live link and a translator greet the viewer in a dark, wall-to-wall and floor-to-ceiling carpeted steel cage. Each visitor has 20 minutes to talk and start a conversation with a complete stranger living in Tehran, Mexico City, Havana and Herat (Afghanistan), the four locations where similar shipping containers are currently staged. Some people come out crying, some smiling.
And maybe that's what an art fair experience is all about: bittersweet, something to stir up our emotions, breach cultural differences and reach out to strangers.