by G & G Taborda
Every year Miami Basel transforms Miami, a city known to be a vacation getaway, hedonist and party animal, into the favorite meeting place for art, fun, and business.  Art galleries, collectors, magnates and everybody interested in sharing or simply appreciating art show up to one of the most important art fairs in the Americas.  An event that has embraced the art in the world, staging special exhibitions at galleries and museums throughout the city.  International galleries show the art work of both established and emerging stars of modern and contemporary art, and also old masters, paintings, installations, photography, ambitious, never-seen before performances become part of a landscape near parks and beaches.
One could hardly expect to find the kind of good art that is beyond commercial interests at an art fair, where business is the paramount purpose. But we did.
At the Convention Center we found the work of the French Indian artist Nadira Husain, represented by the PSM Gallery from Berlin. "Fragments and Repetitions" is a playful work using a simple language ­– drawing and painting on tiles displaced on the floor, as though it were a tapestry but without delimitating a determined space.
The narrative content of the piece combined the way how Ovid's Metamorphosis morphed one anecdote to the other to describe the history of the world in literature with compositional studies of Indian miniature to tell her own story of the contemporary world, using recognizable symbolic icons such as the Smurfs.
The work echoed our children's games, infinite in creativity, movement, and multiplicity.
In the midst of so much colors and monumentality in the fair it was impossible to continue our walk without stopping to look at the collages by Richard Meier, small (16 x 16 inches) graphic pieces exquisitely executed.  The balance, the clean quality, and a very personal narrative have made it a solid and refined work, and as a result, elements that can easily be identified as pornographic have acquired new dimensions and conceptual connotations. The images brought us into his world, his memories, the restaurant he had been, his vision of Marilyn Monroe, women, train trips he had taken… Richard Meir, the renowned architect, is represented by the Gmurzynska Gallery from Switzerland, and the collection is titled "Time Pieces- 50 years of collage".
Then we found "Little Sun" by the Danish Icelandic artist Olafur Eliasson, an ambitious project with a noble cause to bring awareness and light to an estimated 1.6 billion people living in distant regions in the world with scarce access to electricity. It was gratifying to realize that art could also occupy a space in spreading awareness and solution over social and global problems.
The Fondation Beyeler  dedicated its entire booth at the fair to present the project, and organized an Artist Talk event with Olafur Eliasson and Klaus Biesenbach (director of the New York-based Museum of Modern Art PS1 and Chief Curator at Large of MOMA NY).
The lamps were solar powered and developed by Olafur Eliasson and the engineer Frederik Offesen. They can be used as lamps for reading, studying, working, socializing, or they can be used as a torch to walk in darkness as you can wear it from your neck. The idea is to replace the use of toxic and unsafe kerosene lanterns in these areas with a healthy, sustainable, clean resource.
They were sold from a local food truck parked inside the booth, while a second truck traveled around to different fair events in Miami, to join in the Miami food culture activities.  The lamps are sold through their website, as well as MOMA stores in New York, and part of the money gathered from the sales is donated to the project.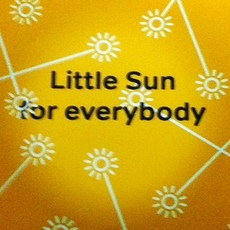 At the same time, the YoungArts and MOMA PS1 presented the project at the gallery, a building designed by Frank Gehry, with an installation of a Little Sun kiosk selling Little Sun lamps in the gallery space, and projecting 16 films as part of an event held at Tate Museum in 2012 that consisted of films made by 18 young international film makers from Africa, Asia, the Middle East, and South America in response to Olafur Eliasson's invitation.
The films focused on local phenomena, detailed observations, atmospheres, aspirations, feelings, encounters, and social activities, related to the theme of life, light, and energy access.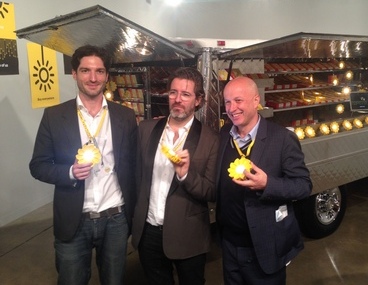 Olafur Eliasson is known for his large scale installations using natural elements such as light, water and air temperature to create a monumental experience in the viewer.  In 2003 he represented Denmark at the 50th Venice Biennale and created the Weather Project installed in the Turbine Hall of Tate Museum in London.
You can watch Olafur's inerview here:  http://inveroart.com/olafur-eliasson-inerview-on-lile-sun/
*Slider photo:
Robert Rauschenberg – New Year's Wall (Urban Bourbon), 1989
Acrylic and enamel on enamelled aluminium
84 7/10 × 240 7/10 in | 15 1/5 × 611 1/2 cm
Oldenburg / Van Bruggen. Leaning Fork with Meatball and Spaghetti III, 1994.
cast aluminium painted with polyurethane,
131 1/2 x 51 1/2 x 39 in / 334 x 130.8 x 99.1 cm.
– Jim Lambie and Sam Durant