The Museum of Modern Art in Dubrovnik, according to Croatian tourist brochures, schedules an important local artist during the busy summer months. No more details were given but I decided to go anyway. The short walk from the walled old city circled around a beach where hundreds of people were taking a dip in the deep blue sea while party music blasted on.
As I entered the serene walls of the neo-Renaissance mansion built in 1935, the lady at the desk said with a smile that they only accepted Kuna for the admission ticket, not Euros, or credit cards, and had no catalogs of the exhibition.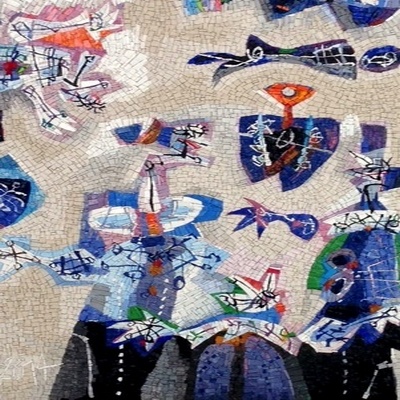 Armed with no further information, I entered the ground floor and was surrounded by large format mosaic paintings. Composed by tiny mosaics of varied sizes and shapes, the colorful paintings immediately demanded my full attention. Some of them looked like pencil drawings, with none of the stiffness that mosaics often have. No description was given to each painting, only a square cardboard on the wall that read "Jože Ciuha".
Maybe not knowing anything about the artist was good. It gave me an opportunity to explore, to question, to feel Ciuha's art without any preconceived idea. Only after I fully enjoyed the art work, feeling its underlying messages through an explosion of colors and forms, I began to research about this artist, his apparent struggle, and eventual triumph that I perceived. My curiosity about him also led me to investigate the past of this beautiful country.
The exhibition includes works from different periods in the life of this 90 year-old Slovenian painter and illustrator who lives between Eastern and Western Europe. His story is closely related to the history of his country and even continent, and the evolution of culture within the context of those tumultuous times.
During War World II, Slovenia was occupied and annexed to Germany, Italy, Croatia and Hungary. At the age of 19, Ciuha was thus forcibly mobilized into the German army. He managed to desert in Normandy and joined the Allied forces. He lived briefly in Paris as a freelance artist and traveled extensively since then. The relationship between Croatia and its neighboring countries is a touchy one. In 1991, when Croatia decided to declare independence from Yugoslavia (which included six republics namely Bosnia and Herzegovina, Croatia, Macedonia, Montenegro, Serbia and Slovenia), the Yugoslav National Army and various Serb paramilitaries launched an all-out attack on Croatia. The bloodshed lasted for five years. A jewelry saleswoman in Dubrovnik lamented to me that things were good now but Serbia was only a mountain away.
Jože Ciuha is a citizen of the world that advocates peace and freedom. He lived under a Communist-ruled society for almost 40 years and the possibility of freedom of choice is a strong theme in his work. Beneath the strong and bold combination of colors, the broad brushstrokes, there is also despair and loss. And struggle, as if the characteristic bony fingers in the paintings are reaching out to the sky, maybe because of the horrors below.
In interviews, Ciuha talks about his intent to be original and how the Buddhist culture and philosophy influenced his work. In Burma, where he often visited, he became aware of the existence of the internal silence and meditative emptiness, which for him, formed the only proper basis for the emergence of new creative energies.
Jože Ciuha's work includes drawings, illustrations, watercolors, oil paintings, the creation of mosaics and tapestry. The use of lettering and application of gold leaf characterize his work. He has won many awards, participated in almost 300 solo and 500 group exhibitions both locally and abroad and can be found in major international arts institutions. He is also a poet and a writer. Ciuha's life principle is "my best painting is yet to be painted".