Art can be fun. It can make you laugh, run for cover, be amazed, play like a child. And forget to ask where does art start and why bother with the question: is this art?
I did not know what to expect when I walked into the Rain Room in the West Bund Art District of Shanghai. There was a waiting line leading into a high ceiling dark room lit by a single spotlight exuding a sense of theatricality. Only five people were allowed to enter the room at a time. When it was my turn, I heard and saw a downpour right in front of me and people were walking right through it. I hesitated, I did not come here to get wet. But I could not hold up the line so I walked into the rain and towards the light. To my surprise, I did not get wet, even though large rain drops bounced dramatically on the floor that was made of a grid of metal grating. I felt elated, it was like dancing in the rain without getting wet. How does it work?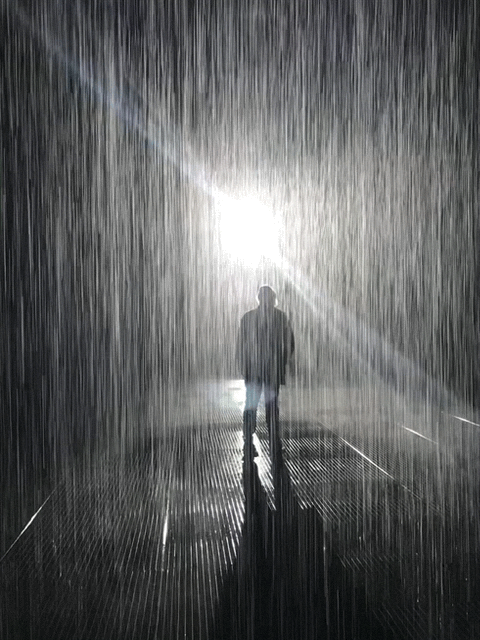 Rain Room was first created as an experiential artwork by Hannes Koch and Florian Orkrass for Random International, a London-based art collective and collaborative studio. The monumental piece was showcased in international art venues such as MoMA (New York's Museum of Modern Art), London's Barbican Center and LACMA in Los Angeles, where people queued up for three hours to get in. In 2018 it became a permanent installation in Sharjah, United Arab Emirates. The site-specific sound and light installation employs 2,500 liters of recycled water that streams from ceiling to floor at a rate of 260 gallons per minute. Once a visitor enters the room, a system of 3D tracking cameras placed strategically on the ceiling detect the visitor's movement and signals the water nozzles on the ceiling to stop the flow of water from falling on top of the person and in a six-foot radius around him, making it a choreographed downpour. Thus, the visitor's body is embedded in the data of the cameras and is literally trapped within a closed space as he moves around the room. 
To use cutting-edge digital technology in art is nothing new but at Rain Room, visitors become performers on their own stage. Some would dance, others would simply contemplate. Today's art is ingenuous, immersive, bold and interactive. Rain Room is all that. 
Of course, I did get a bit wet on my way out. Must be a glitch, systems fail. But then, where's the fun without some unscripted outcome.