by Juan van Wassenhove
"Catch 22" is a phrase used to express a contradiction or an impossible situation,  like a  "mission impossible". It actually describes what I often feel when I visit an art fair and its satellite events: so many things to see in such a short period of time! To share with you my experience with the recent Miami Basel event, I've decided to summarize my private "catch 22" by selecting what gave me the most pleasure out of hundreds of art pieces that I saw. I focus mostly on Art Basel Miami but I must say that I have also seen some amazing artwork in other parallel venues. So, here is what I'd do: I'd put a number on each photo so as to create a certain sequence and maybe a story would emerge. The sequence begins with a sort of genesis of the universe with the big eye watching (photo no. 1: Alexi Diaz) traversing the creation of some planets, human beings, birds…then communities or the absence of them that are reflected in the pieces of Ai Weiwei (photo no. 13) and Kawamata to end with a note of optimism and introspection with " look into my dreams" by Jaume Plensa. Art does not need too many words yet it is never short of imagination and it actually ruffles and stirs the imagination of the viewers as well… Look at the photos first before referring to the list with all relevant details. Enjoy!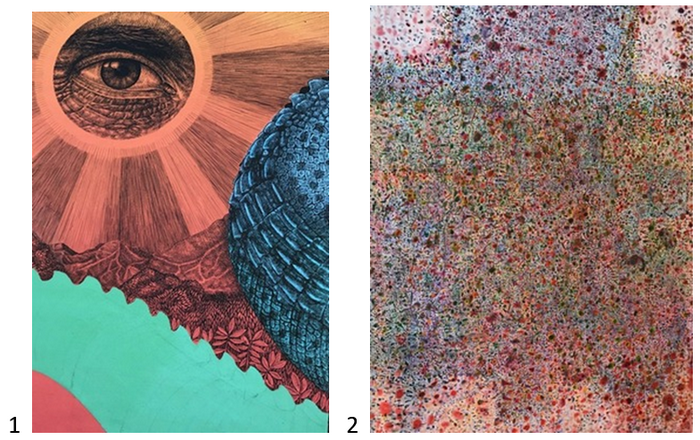 Alexis Diaz, 2017, street art Miami Wynwood;
Tomm El-Saieh, 2017, (Port au Prince Haiti), Courtesy Central Fine Miami Beach;
Mira Schendel,  1960, Untitled. Hauser and Wirth New York;
Robert Longo, 2017, untitled Fireworks, charcoal on mounted paper, Galerie Thaddaeus Ropac;
Dolores Soldevilla (Lolo), 1958, untitled, mixed media on wood, courtesy Cisneros Fontanals Art Foundation; (on slider)
Ed Ruscha , 1976, solid state pastel on paper, Galeria Elvira Gonzalez; (on slider)
Daniel Knorr, 2017, depression elevation blue skylight, Galerie Rosemarie Schwarzwalder Vienna;
Loris Cecchini, 2017, Finger print, marble, Galeria Continua;
Kazumi Nakamura, 2017, a bird in its existence, acrylic on cotton, Blum&Poe;
René Magritte, 1962, le domaine d'Arnheim, gouache on paper, Di Donna;
Julio Gonzales, 1929, bronze, Marlborough Gallery;
Pablo Picasso, 1961, tête de femme, pencil on a card cut-out, Jean Kruger Gallery;
Ai Weiwei, 2017, Blue and white porcelain plate, Lisson Gallery;
Tadashi Kamawata, 2017, wooden model, metal sheet and paper, Kamel Mennour Paris;
Richard Faguet, 2011, untitled, Art Concept Paris;
Vivian Sassen,  2013, Etan/mint 12:00 2013, Pace/Macgill Gallery;
Sarah Moon, 1996, Pace/Macgill Gallery;
Myriam Haddad, 2017, le parapluie jaune, oil on canvas triptych, Art Concept Paris;
René Magritte, cloud in a glass; Di Donna
Philp Gusto, 1978, the desire, Hauser& Wirth;
Alberto Burri, 1951, Muffa, Mazzoleni;
Jaume Plensa, 2015, looking into my dreams, Lelong Paris.