by C.C.
You went to the world's most important air fair, the Art Basel Miami, what did you see? The answer to that question has always been the same: everything.
There is always too much to see, too much to learn, too much to think about, too many people to meet.
The experience is that of saturation, and yet every year it works like a shot in the arm to revive the public's interest in art, not just in terms of art market, business, real estate or urban development, or making a statement of a style of life, but most importantly, it always offers the opportunity for a fresh look at art and what creativity means to every single person in a personal, conscious and subconscious and even spiritual context.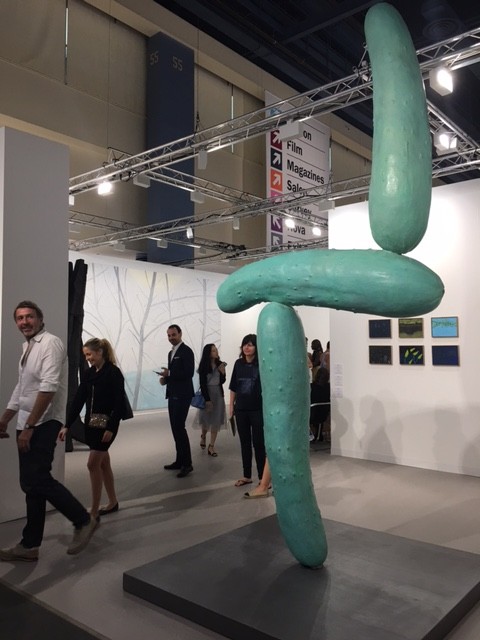 What is new out there? What about the old that has influenced the making of the new? What are they making that will make a difference on me?
The answers to these questions differ in every art fair, every year, every country.
On its 15th year in Miami, Art Basel featured the art works of hundreds of international artists from 269 galleries from 29 countries, and as expected, it not only included highly valuable works by masters of modern and contemporary art, but also new surveys and vibrant explorations by emerging artists. Despite the magnitude of the fair, the most prevalent factor has been and continues to be the opportunity to discover rarely seen art works either by well or lesser known artists of all times.
Among the artists whose works have not been widely publicized was an extraordinary Milan-based German artist Irma Blank. The Galerija Gregor Podna dedicated its space almost entirely to Blank and her obsessive focus on the issue of language and communication. The result is a profoundly lyrical imagery that communicates beyond the obvious and ordinary. Language has ceased to be merely a tool; it has become a work of art by itself. The gallery showed her work in different periods including the mimetic practices of Trascrizioni, which transcribed existing writings and converted them into new structures and symbols, her "breath paintings" and "radical writings" that worked with the length of a breath to make a single mark, the personal "osmotic drawings", and the poetic "Avant-testo", where she reached the zenith of a gestural purity and search for symbols by using just ball pen marks. The return to the issue of language in an extremely manual and intimate way has given a significant response to an era of media and Internet connectedness.
The art fair, which last year focused more on Latin American art specifically the Cuban art, this year has taken a special interest in art within a context of art history. We saw many paintings by Alex Katz, the quintessential American painter that crossed the barriers of traditional European figuration and abstract issues to venture into new flat, simplified surfaces that depicted his time and made the familiar and ordinary into icons in the American culture.
Other major movements in contemporary art history were represented by the works on paper by Richard Diebenkorn (1922-1993), well known for his incursion into color field painting and lyrical abstraction and the way how he dealt with forms and edges that revolutionized plastic concepts of the time, the ironic Pinocchio by Jime Dine, and a series of rarely seen photos of early performances (1970s and 1980s) of the ephemeral earth art by Andy Goldsworthy, using his own body that engaged in actions of throwing, spitting and burying himself to make intimate connections with Nature.
It was a pleasant surprise to find a Survey space dedicated to one of the key South American avant-garde artists in the 1940s, the Uruguayan Carmelo Arden Quinn, founder of Arte Madi Movement. The Movement introduced the idea of physical movement into the static genre of painting and the pioneering invitation of the participation of the audience in the creation of art works. His exploration of irregular shapes and edges of the canvas has been the inspiration of leading contemporary artists such as Ellsworth Kelly and Jack Youngerman.
From Japan we saw two never-before-seen works by Kishio Suga, the main figure of the Mono-ha art movement in the 1960s and 1970s, that has used unadulterated raw materials like wood, metal, stone, concrete and plastic to make huge installations. The pieces used slight geometric protrusions and shapes that made a statement about purity in the perception of space.
In the midst of this in-depth journey into the recent past of art, we found a space especially reserved for a master of modern art, considered as the artists' artist, for his work has been the collection and inspiration of many leading artists of today: Giorgio Morandi (1890-1964). This precious pause in the fair to examine essential issues of art was presented by the Italian newcomer Galleri d'Arte Maggiore gallery with a carefully selected collection of not only Morandi's signature modestly sized paintings of still life with a contained, tonal color range and concrete planes, forms and space, exuding a quiet, mysterious and luminous aura, but also rarely seen landscapes, and watercolors, etchings and drawings that showed the progression of his plastic explorations.
From Argentina, we saw the installations of one of the main figures of opt and kinetic arts in the world, Julio Le Parc. At 88, the artist has not ceased to present impressive artwork to challenge perception and make a statement in the relationship between the viewer and the artist, space and galleries and museums. He resorts to plastic tools of colors, forms, lines, and light and shadows to create a utopian vision for art and society, "to elicit a different type of behavior from the viewer (…) to seek, together with the public, various means of fighting off passivity, dependency or ideological conditioning, by developing reflective, comparative, analytical, creative or active capacities."
Parallel to the Art Basel Miami, he has a solo exhibition at the Perez Art Museum Miami (PAMM) called "Form and Action" featuring more than 100 of his works from 1958 to 2015 that seek to "de-mystify" art. The show will end in March 2017.
It is a moving experience to witness how these leading artists of different movements have never stopped to invent and reinvent their art as time goes by. The work of the notorious American artist David Reed, for example, has surveyed and challenged beyond different movements of Abstract Expressionism, Color Field Painting, Pop Art and Minimalism, installations, videos and films. At the fair, the New York based Peter Blum art gallery showed some of his early gestural works in 1970s and one of his short films based on a Western legend of the 1950s, and for a more extended view of his work, we can see a current solo show at the PAMM museum in Miami.
The Art Basel Miami is ended but has left a significant mark of the legacy of art that opens up to a positive prospect of what is to come.