When we think of power, we do not often relate it to stillness.  Nor do we often associate a great leap forward to a gentle gesture of a supple, pliable material.
But right in the middle of New York City, on the tip of the iconic Flatiron Building, a pivotal location where the Fifth Avenue and Broadway crisscross, we have found an art work that precisely manifest such a leap of power.
Inside the slim window gallery of the building's Prow Art Space, we find a large installation of drawing in charcoal of an animal of power leaping forward and yet suspended in soft and translucent layers and broken pieces of Chinese calligraphic paper, as if it were shifting in the air and in solid stillness, at a meditative pace, it advances through the hustle and bustle of the modern urban life, thus gently, firmly breaking off an endless vicious circle of stress and motion.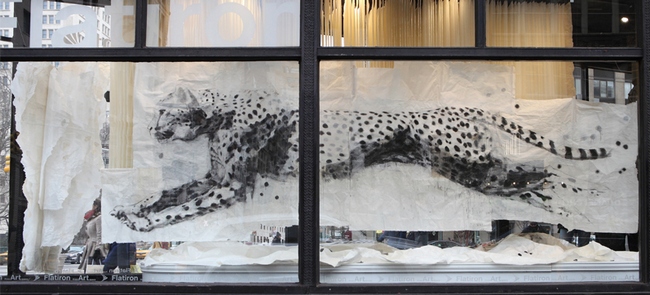 "Embracing Stillness" is the name that the artist Lin Yan selected for her show, reflecting her interest in the Taoist concept of stillness. The exhibition is a project sponsored by New York's Cheryl McGinnis Gallery.
It is interesting that the work is shown at the Flatiron Building (named for its eclectically flat shape of a flat iron), as it marked at the beginning of the century, a historical time of the architecture of skyscrapers considered precisely as a symbol of power and progress.
Born in Beijing, Lin Yan lives and works in New York. Her work has been shown in different museums including the National Art Museum in China, Dresden State Art Collections in Germany, Chelsea Art Museum in NY and The Museum of Chinese American in America in NY.